Renshaw horses
Belle and Sundance -
Mount Renshaw Horse Rescue
McBride, B.C.

Thank you for your interest in and support of the
"Renshaw Horses", SUNDANCE and BELLE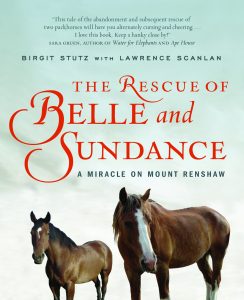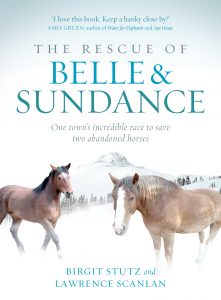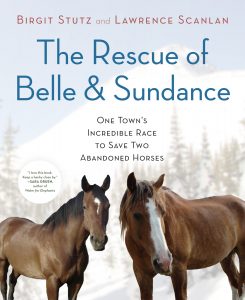 Birgit's book,
"The Rescue of Belle and Sundance – A Miracle on Mount Renshaw"
(written together with Lawrence Scanlan and published by HarperCollins Canada) is available as paperback. 
You can order the book online through Chapters or Amazon or inquire at your local bookstore. If you would like a signed copy, please contact Birgit directly.
The American version of
"The Rescue of Belle and Sundance – One Town's Incredible Race To Save Two Abandoned Horses"
(published by Da Capo Press/Perseus Books Group) is available as paperback.
Update on the Rescued Horses
Renshaw horse crosses rainbow bridge: Sundance passes away May 4, 2015
Pictures of Belle being ridden by Birgit Stutz in the McBride Pioneer Days Parade in McBride, June 19, 2010
View a slideshow of the Renshaw horse rescue (by Birgit Stutz)
Renshaw horse rescue (Prince George Citizen)
Edmonton Journal Gallery: Horse rescue in BC Mountains
December 4, 2009
Edmonton lawyer Frank Mackay pled guilty today in McBride Provincial Court to causing or permitting an animal to be or continue to be in distress under the Prevention of Cruelty to Animals Act. On a joint submission, he received a $1,000 fine, a $150 victim fine surcharge, has to pay restitution to the B.C. SPCA in the amount of $5,910.16, received a prohibition against possessing any animals for two years (in B.C. only), a probation order for the period of 12 months, and a counselling term because of his behaviour. He further has to deliver a copy of his probation order to the nearest SPCA in Edmonton and to the provincial SPCA office in Alberta so that the authorities are alerted, and purchase advertisement in two issues of the local paper in order to publish his statement which was read in court today. The proceedings on the two criminal code offences were stayed (causing unnecessary pain and suffering to an animal and cruelty to animals).
In his statement, Mackay said: "I wish to thank the rescuers who volunteered their time and effort to rescue the horses. … If it hadn't been for the accident, I would have gladly participated in the rescue."
Court also heard that this was the first time Mackay has been in the backcountry by himself.
February 12, 2009
The two abandoned horses have found new forever homes. Sundance will be going to a family in Kamloops and Belle is staying on a farm near Prince George. It is unfortunate that they can't stay together after all they went through, but hopefully they will go to loving families.
January 26, 2009
Charges under both the Criminal Code of Canada and the Prevention of Cruelty to Animals Act have been submitted to Crown Counsel in Prince George on Jan. 22.
On another note, the "owner" of the horses has not filed an injunction, so the two horses now legally belong to the B.C. SPCA.
January 21, 2009
Some people have been wondering about Belle's coat, and the SPCA in Prince George confirmed today that her coat has started to grow back in and that she should have a beautiful coat once again. This, of course, is going to take some time.
January 13, 2009
This update is from Debbie Goodine with the SPCA in Prince George:
The horses are doing well and they did receive the supplements. It is difficult to say how quickly the horses will come up. Winter time tends to be a harder time to put weight back on horses depending on how mild or cold the weather is. Some horses can put a score on in a month, others may take a few months per score. The vet does not believe there to be any other problems associated to the horses' poor body condition. Again it may be a bit early to tell, but they have excellent appetites and are quite spunky and social with their neighbours. The feed schedule is hay based and has been increased weekly, and a small amount of grain has been introduced. I feel it will be another six weeks or so before we see marked improvement on their health. They have not been back to the vets as they are doing well, likely they will return for a check up in about a month, unless something comes up. Wish I had more to share, slow and steady wins the race.
Media Coverage
CTV Edmonton, Dec. 21, 2008 – Rescuers free horses possibly abandoned by Edmonton man
Edmonton Sun/Canoe Network, Dec. 23, 2008 – Volunteers digging to free horses
CTV.ca Edmonton, Dec. 24, 2008 – Snowbound horses rescued from B.C. mountainside
CTV.ca BC, Dec. 24, 2008 – Snowbound horses rescued from B.C. mountainside
20 Minutes (Switzerland), Dec. 25, 2008 – Ils déplacent des montagnes de neige pour sauver deux chevaux faméliques
Standardbred Canada News, Dec. 29, 2008 – Horses Rescued In A Christmas Miracle
Blick (Switzerland), Dec. 29, 2008
Krone.at (Oesterreich), Dec. 2008 – Verlassene Pferde vorm Erfrieren gerettet
The Valley Sentinel, Dec. 31, 2008 – Alberta man abandons horses for dead (front page)
The Valley Sentinel, Dec. 31, 2008 – Alberta man abandons horses for dead (part 1)
The Valley Sentinel, Dec. 31, 2008 – Alberta man abandons horses for dead (part 2)
The Valley Sentinel, Dec. 31, 2008 – Horse rescue – viewpoint
The Valley Sentinel, Dec. 31, 2008 – Poem for the rescued horses (submitted by Cathy Vincent-Linderoos from London, Ontario)
CTV BC, Jan. 3, 2009 – Charges expected in abandoned horse case
The Valley Sentinel, Jan. 7, 2009 – Horse owner speaks out (part 1)
The Valley Sentinel, Jan. 7, 2009 – Horse owner speaks out (part 2)
The Valley Sentinel, Jan. 7, 2009 – Horse owner speaks out (part 3)
The Valley Sentinel, Jan. 7, 2009 – Horse rescue – viewpoint
The Valley Sentinel, Jan. 7, 2009 – Horse rescue – viewpoint
The Fitzhugh, Jasper, Jan. 8, 2009 – Equine examination
The Fitzhugh, Jasper, Jan. 8, 2009 – Editorial
The Valley Sentinel, Jan. 14, 2009 – Charges to be laid in horse rescue case
CTV Edmonton, Jan. 20, 2009 – Edmonton man will not get horses back
The Standard, St. Catharines, Jan. 20, 2009 – Owner of emaciated horses not getting animals back
SPCA Submits Charges to Crown Counsel (press release from January 26, 2009)
CTV BC, Jan. 26, 2009 – Charges recommended against owner of abandoned B.C. horses
The Valley Sentinel, Feb. 11, 2009 – Update on rescued horses
CTV BC, Feb. 20, 2009 – Horses rescued from death about to get new home
Owner of McBride horses charged with three counts of animal cruelty (press release from February 24, 2009
CTV BC, Feb. 24, 2009 – Owner of abandoned B.C. horses charges
The Valley Sentinel, Feb. 25, 2009 – Letters from around the world
horsetalk.co.nz, June 9, 2009 – Village receives heroism award for rescuing trapped horses
The Valley Sentinel, Dec. 9, 2009 – Mackay sentenced in McBride court part 1
The Valley Sentinel, Dec. 9, 2009 – Mackay sentenced in McBride court part 2
horsetalk.co.nz, Dec. 9, 2009 – Man who sparked 12-day horse rescue admits charge
TheHorse.Com, December 24, 2009 – Horses Abandoned on Mountain Find Homes
The Valley Sentinel, March 17, 2010 – Mackay appeals probation order
CowboyLife.com – It Takes A Valley
Saving the Boys – (Girls Too) – CowboyLife.com
My Healthy Horse, Dec. 30, 2008 (blog)
My Healthy Horse, Jan. 4, 2009 (blog)
My Healthy Horse, Jan. 6, 2009 (blog)
My Healthy Horse, Jan. 12, 2009 (blog)
Tuesday's Horse, Jan. 6, 2009 – Future of McBride horses dug out of snow up in the air
Tuesday's Horse, Jan. 27, 2009 – Animal cruelty charges urged for owner of horses trapped in snow
Radio DRS (Switzerland), Aug. 9, 2009 – Die Fuenfte Schweiz